This is part two of my Hidden Gems of ClassDojo series of blog posts.
In this one I'll show you how to customise the Dojo Avatars. Basically there are 2 ways to change them-one is to create your very own custom set and the other is creating your very own dojo creature.
Firstly within your class section of ClassDojo click 'Edit Class'.
Then in the next pop up box. click 'Students' and then click one of the students avatars.
Next click the 'Create set' button.
Then give your new collection of homemade avatars a name.
Next click the 'Upload avatar' button.
Then choose a picture from your computer files or there is a brilliant option to search 'Web images' by a keyword. Keep selecting images this way until you have enough for all your class.
You then click the 'Save & Close' button.
After that click back on the students avatar and then click the drop down menu selecting the Customised set that you have just made.
Once you have chosen the new avatar and clicked  the 'Save & Close' button the students new avatar will be displayed.
Hang on!What about the students, can't they create their own avatars? Yes they can! There are several options-you could get the students to create their own avatars using numerous free online avatar creation websites (comprehensive list here from @UKEdchat and  @ICTMagic ) and then save on computer for upload as the instructions above. Their are plenty of other options-search web for their favourite sports team and use their badge or copy a pop star photo or cartoon character.
Students an also use the ClassDojo Critter Creation tool to make their own Dojo monster avatar. Its a bit convoluted but is a really nice tool. First you have to print off the student codes (instructions here). Then once the student has signed in and their parents have confirmed by email that they are allowed to use Classdojo then they can edit their monster. Only issue at the moment with this feature is that once a student changes their avatar the teacher cannot edit it. Also a real shame kids can't create their avatar without parental email confirmation. It's a really neat feature though and hopefully it'll be available on the Teacher log in soon!
Check out this this video to see how it works.
I find that if students have an opportunity to not only chose but create their own avatar their connection with ClassDojo is that much stronger and they are more willing to engage with it. Also giving ownership of this aspect encourages students to identify with their own behaviours in class and they will want to do better because of it.
Will definitely be some more Hidden Gem of Classdojo posts.
If you missed part 1-it's here.
Written by Julian S Wood -
www.ideasfactory.me/about/"rel="author"
This is the first in a series of blog posts highlighting some of the hidden gems of Classdojo that you may not have heard of.
Sometimes the brilliant behaviour that your students exhibit deserves something more than the 1-point-ping from Classdojo. Sometimes the student is so good, you end up pressing that reward button several times. Sometimes you want to make a behaviour just that little bit special and sometimes a 1 point reward just isn't enough.
Have no fear-the SUPER-Dojo is here!
Watch the students' faces light-up when they achieve a SUPER-Dojo, watch them cheer, watch their classmates try their best to achieve a SUPER-Dojo and smile when the learning behaviour in class becomes exemplary.
So what is a SUPER-Dojo? A SUPER-Dojo is just a behaviour that is worth more than the standard 1 point when you select your student to receive it. It's a little known Classdojo customisation and a hidden gem!
Here's how you do it-
Log in to Classdojo and select your class. Then press 'Edit Class' in the top right hand corner.
Then click 'Behaviours' and hover over a behaviour you want to change into a SUPER-Dojo. It will say 'Click to edit'.
Then tick the 'Weight this behaviours points bubbles (optional) and select from 1-5 the number you want to turn this into a SUPER-Dojo.
When you next want to reward a student with a dojo point, the SUPER-Dojo behaviours will be obvious because just above the icon will be the text +2 to +5 depending on the number you selected in the edit screen. Also this is great for showing students which behaviours are worth SUPER-Dojos.
A really simple way to give an extra special award that is worth more than the usual one-point-dojo.
Thanks go to my colleague Jamie Dean (@McMilney) who invented the Super-Dojo to reward his class and has seen the super behaviour get super rewarded!
If you want to know more about the FREE online reward system Classdojo see the website or watch this video-
www.ideasfactory.me/about/"rel="author"
It was Professor Stephen Heppell who once said-
"You become Expert by talking about it, you develop Expertise by doing it. Not all Experts have Expertise." 
This blog post has been long in the writing but I have seen too many more examples, to let this practise carry on without saying another word. I'd also like to point out that this is not a post criticising the work of any of the bodies I mention or the good people who work within them. 
It all started three years ago in 2012 with the dissolution of the ICT curriculum. Paul Hague of the Hallam Teaching Alliance set up NTAB  (National Teaching Schools New Technology Advisory Board) and I looked at the members of the 'board' and could find no representation from Primary or Early Years School teachers. I then got into a Twitter debate with Oliver Quinlan and Pete Yeomans (who at the time were Teacher training University Lecturers). They were both on the panel, said they could ably represent Primary teachers (of which I had no doubt) , it was also pointed out to me that the 'Teaching Alliances' also had Primary Schools under the wing and this was enough to represent the views of Primary Schools .
'The aim of the NTAB was to bring together a range of stakeholders from the new technology community including Teaching Schools with lead status for ICT, big industry players including Toshiba, Microsoft and Intel, key higher education institutions, regional broadband consortia, NAACE, VITAL, CAS (Computers At School) and academy sponsors, to advise the entire teaching school network on the new technology issues of the day and help them to help their alliance schools.'
I argued how was it possible to get the views of Primary/Early Years sector when there wasn't a single Primary teacher or Headteacher on the panel and that I would rather an actual practitioner represented me. Anyway-suffice to say it didn't change a thing and they carried on without any Primary representation (It also soon dissolved and ironically not much trace can be found online).
Let's look at some numbers-a recently released Freedom of Information Act request shows that in 2012 there were 424 Nurseries, 16,818 Primaries and 3,268 Secondary schools. With 39,470 Nursery pupils, 4,217,000 Primary pupils and 3,234,875 Secondary students. In November 2011 there were 202,500 Nursery and Primary Teachers compared to 140,400 Secondary Colleagues. Obviously the data is old but I would surmise that the differences in data between the phases remains similar.
So there are 3 times as many Primary Schools as Secondaries and nearly a third more Primary teachers.
Why am I getting so animated about this?
Because I am sick of so-called experts, who think that they can speak on Primary Colleagues and my behalf. I am tired of having to defend my job to people who haven't got a clue what I do because the last time they visited a Primary School was when they were 11. I am annoyed at having to accept that my opinion, is somehow belittled, because I work with children who are between 2 and 11 years old and that somehow means that my own intelligence is at the same level of those I teach. I am very angry about people who continually do down Primary teachers and believe it is an easy job.
This is not a post about Primary versus Secondary, this is not a post moaning about my workload, this is not a post about me or of the continual changes made by our Government.
This is a post about parity. This is a post about hearing the Primary Teacher Voice. This is a post about equality.
Let's look at the Headteachers' Roundtable- 'We are a non-party political headteachers' group operating as a think-tank, exploring policy issues from a range of perspectives.' So far they have only one Primary representative out of 12 headteachers-(ironically the only woman as well but that's another post!)  Ruth Whymark Headteacher,from Cranmer Primary School, in Merton. So that's 11 Secondary/College/Academy Heads and only one Primary.Am sure Ruth does a fine job but is it really enough that having one Primary Headteacher equates to a 'range of perspectives'? Please don't give me the argument that the rest of the Roundtable 'work closely' with their Primary feeders. I have 'worked closely' with local Secondary Headteachers for years, they still have no idea what we do at Primary and are continually surprised with our practise.
Next up Educational Think Tanks-The Education Foundation is the UK's first independent, cross sector, education think tank. Our work is focused on three priorities: education reform, technology & innovation. Yay! Cross sector-must mean they have a Primary Teacher or Headteacher on their board?No they haven't-not even as an 'advisor'.
Is there an Educational Think Tank that has Primary School or any school representation? Policy Exchange-no. Demos-No. Sutton Trust-no. How can these organisations have a viable voice about Education Policy if they don't have any School representatives? Yet these people are seen as Experts!
Surely if you are a charity that is led by educationists to train teachers, you must have some representation from Early years or Primary School? Well TeachFirst doesn't.
Finally the hot topic at the moment is establishing a 'College of Teaching' led by by several voices and now trumpeted by our new Education Secretary, Nicky Morgan. This is another attempt to reboot a Teachers version of the British Medical Council. 'Claim Your College is a campaign to create an independent, chartered and profession-led College of Teaching for the benefit of professional practice that helps children and young people succeed.'
You can guess what I'm going to say next-the very organisation which is supposed create a 'profession-led' College for the benefit of 'professional practise' has no primary based colleagues at it's base (Plenty who are supporters). Rather ironically, details the organisations I have listed above, as supporting consultants. Why should we give any credence to an organisation that is failing to listen to the Primary Teachers Voice from the outset?
I could list many more professional bodies, organisations and educational trusts that fall into the same category. But I am sure you understand where I am going with this.
If you are reading this and you happen to be a member of these organisation-then don't fall into the trap of criticising my post, be proactive and invite some Early Years or Primary Teachers to be part of your organisation, I will guarantee that you'll be better for it. Also I can only research your member make up from your websites-if indeed you have Primary representation (and I mean those that actually work in a school) then please get in touch and I will amend.
If you are a Primary Headteacher or teacher and you are reading this, please Tweet out or write a comment.
Let's not stand idly by and watch our profession being represented by 'Experts' without Expertise. Let us be proactive and claim back our voice.
Written by Julian S Wood -
www.ideasfactory.me/about/"rel="author"
Once upon a time there lived a vain Emperor whose only worry in life was to impress his subjects with the extraordinary quality of his use of Technology. He spent thousands on the latest laptops and gadgets. The Emperor developed new ways to demonstrate his computers almost every day and loved to show them off to his people.
But as the years passed the Emperor's coffers began to dry up. His beloved computers became slower and their vast memory became full. The vain Emperor became frustrated with his computers lack of speed and his lack of money.
Word of the Emperor's frustration spread over his kingdom and beyond. Two scoundrels, named Jonny and Bill, who had heard of the Emperor's vanity, decided to take advantage of it. They introduced themselves at the gates of the palace with a scheme in mind.
"We are two very good technology sellers and after many years of searching we have found an extraordinary method of computing that is so advanced and automated in its design that it almost completely eliminates the need for any serious creative effort on your part, thus allowing you to use technology in more amazing ways than ever before. As a matter of fact, this hardware is so good that most of what it does will appear invisible to anyone who is too stupid and incompetent to appreciate its' great quality."
The chief of the guards heard the scoundrels' strange story and sent for the court chamberlain. The chamberlain notified the prime minister, who ran to the Emperor and disclosed the incredible news. The Emperor's curiosity got the better of him and he decided to see the two scoundrels.
"As you are at the forefront of technological knowledge, you will, no doubt, have heard of the tablet computer, your Highness." The Emperor nodded, for he had heard of these mystical devices but had yet to see them in the flesh.
"We sell such a device, it contains a camera, a video camera, a web browser and you have access to thousands of apps- just by having the tablet computer in your hand everyone will marvel at your scientific knowledge, your subjects will be amazed by its' benefits and you will look like the most technological genius in the entire world! As a matter of fact,  this hardware is so good that most of what it does will appear invisible to anyone who is too stupid and incompetent to appreciate its' great quality. For a bag of gold coins we will agree to sell all 30 of them to you."
The Emperor couldn't believe his great luck and believed every word the two scoundrels had said. In fact he was so convinced that the tablet would solve all his woes that he failed to ask quite a few very important questions.
The Emperor gave the two men a bag of gold coins in exchange for 30 tablets to use in all of his Highness' many residences and offices.
The Emperor switched the tablet on, although he didn't have WIFI and he couldn't connect to the internet, he didn't know how to download apps and he couldn't understand the camera either but he believed what Jonny and Bill said and felt that just by holding the tablet he was a technological genius.
He called the Prime Minister in for a preview and showed him the tablet. "See Prime Minister look what a genius I am, look at the wonderful things that are happening around me now I am holding this tablet computer!"
"That's strange, " thought the PM. "All I can see is a home screen and nothing else. Where is the innovative use of technology that made the Emperor so famous?"
But before querying this with the Emperor, he thought again: "If all I see is a home screen, then that means I'm stupid! Or, worse, incompetent!" If the prime minister admitted that he couldn't see a thing, he would be discharged from his office."
What a marvellous use of technology, Emperor," he lied. "So amazing, it makes you look like a genius." Encouraged by this positive response, the Emperor set about giving his new tablet computer to all Government departments and soon almost all the government's time was spent trying to work out how to use the Emperor's new tablet computer's to do all their work too.
No-one could criticise the Emperor's use of the tablet or ask for help without being accused of stupidity and risking their job. Soon most of the Government departments came to a complete standstill trying to work out how to use the tablet computers to do their work for them.
One day, a schoolchild on a job placement scheme was invited to sit in on one of the Emperor's presentations. Bored silly by staring at the home screen and nothing else happening, aware that most of the audience was losing consciousness, he couldn't help but remark to those around him: "Eh! He's just showing the home screen! He has no idea how to use this tablet, in fact there isn't even any WIFI!"
"Fool!" his supervisor snapped. "Don't talk nonsense!" He grabbed the child and took him away. But the boy's remark, which had been heard by practically everyone except, luckily, the Emperor, who was too busy marvelling at the home screen, was repeated over and over again until everyone cried: "He's right, you know, he's just showing the home screen! He has no idea how to use this tablet, in fact there isn't even any WIFI!
And you know what? They were right.
With a massive nod towards Clive Shepherd whose inspiration I nicked….
Written by Julian S Wood -
www.ideasfactory.me/about/"rel="author"
Yesterday I read a tweet from the excellent Carl Hendrick signposting an article from the Atlantic website called 'The Myth of the Minecraft Curriculum' It's sub-heading was entitled-
"In reality, the computer program has about as much inherent educational value as an overhead projector."
I am not going to bore you with an in-depth analysis of a frankly wide-of-the-mark article. But you can guess the basic premise, the very popular sandbox PC,Console and IOS game Minecraft "is not intrinsically educational."….
I'd also heard one particular nameless, high profile blogger and tweeter, at a national educational event reduce education technology to "all kids do on the internet is go on Facebook".
Obviously if you or your kids don't play Minecraft (which the writer of the article doesn't) and if your only experience of teenagers is them talking incessantly about Facebook (well it is a social network!) then your knowledge is going to be based on experience as tiny as a gnat's chuff.
I replied to Carl's tweet with this-
"Hows about co-operatively building in Minecraft on Xbox with 6 friends chatting with 1 while face timing on iPad with another."
Followed  swiftly with-
"…..That's my nephew playing Minecraft-don't think he does it for his Maths homework but is definitely learning something."
Let's go into this in detail, after school, my nephew and his friends build gigantic structures co-operatively, together. Whilst verbally instructing and helping each other on XBox Live and Facetiming on their iPads. They search the internet for tips and watch 'how-to' videos (created and shared by other Minecraftians) in their own time, they then teach each other how to 'craft' certain materials, which combinations of these materials create new items and where the locations in the game are to find them.
For me this type of engagement is the zenith of learning, an informal fellowship striving to achieve a common goal, through co-operation, social learning and research.
At the time of writing 18,647,546 people have bought PC/Mac version of the game, not adding the countless millions who have bought the IOS and XBox versions. So it doesn't take the greatest leap of imagination to think that many more kids would be playing Minecraft in the same way my nephew and his friends do.
This is just one game-all the cool kids have moved on to newer challenges like Garry's Mod and Terraria.
And it's nothing new-in 2011 I wrote an article about how my brother wrote a Nintendo Wii game with help from global collaborators and social learning.
So can any video game be educational-my answer is YES! It just depends how you use it in the classroom!
Take a look at the excellent Lee Parkinson and how he used Angry Birds in his school or David Andrews with his excellent work teaching writing genres with the Bike Baron game.
Best of all is the Consolarium and the inspiring work of  Derek Robertson, who have reseached the very positive effects of using video games in the classroom.
Not forgetting there's even an Edu version of Minecraft where you can customise the settings, post challenges and reward goals. There's also a site dedicated to providing resources for this.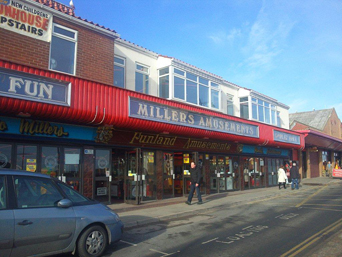 Finally I'm reminded of my own childhood, in the summer holidays in the late 1970's and early 80's, spending hours in the video arcades on Whitby Seafront. My brother and I had very little money to spend but we spent hours watching others playing. Learning from their mistakes, watching the expert players and memorising their successes. Replicating their moves and maximising the little money we had to play for longer.
You don't need me to point out the obvious intrinsic educational value in that.
Extra Bit
I thought I'd signpost a few educators who have used Minecraft in creative, educational ways-just in case you're still not convinced.
Bryn Goodman has written about how he taught his pupils about Pyramids and how he created an Appsmash with The app Thinglink here
Teaching Scientific concepts using Minecraft
Joel Levin @theminecraftteacher amazing website choc full of ways he's used Minecraft in class.
Lee Parkinson has written about how he used MineCraft to teach about area and perimeter. And to inspire writing!
Minecraft introduction videos.
The Minecraft Beginner's Handbook
Using Minecraft to engage writing
MinecraftEdu – a version of Minecraft designed for teachers and students.
Massively Minecraft -http://massivelyminecraft.org/, invites kids ages 4 – 16 to join their online guild, with the support of their parents and to contribute to the community world.
Minecraft in School – minecraftinschool.pbworks.com/
André Chercka, Special Education teacher – http://gamebased.tumblr.com/, has begun documenting his use of Minecraft to teach English and math to students with learning disabilities.
This is the best BOOK ever on Minecraft in Education with contribution by the Minecraft genius Adam Clarke AKA @Thecommonpeople the guy behind MineCraft at the TATE!
I think we should finish with this quote-
"I have been teaching for 9 years, and I have never before seen kids so engaged with learning as when they are playing Minecraft.  It has been a transformative experience for me as a teacher and has cemented my belief in the power of Games Based Learning.  I have made it my mission to give as many other teachers and students the chance to have a similar experience."  -Joel Levin, MinecraftEdu
Written by Julian S Wood -
www.ideasfactory.me/about/"rel="author"
So you want the pupils to write about the rainforest or the seaside, or describe the woods where Hansel and Gretel got lost or create a new Castle for Bowzer in Super Mario Brothers.
You show them a PowerPoint and tell them to get on with it………….and the pupils just stare. Some at you, some out of the window and some into that empty space where there imagination is.
There is another way!
Let's start at 'describe the woods where Hansel and Gretel got lost'.
Show them the Google Streetview of Crooked Woods in Poland and let them explore.
Then put a picture of the Woods on the IWB. Add the 4th dimension by composing a track from 'Nature Sounds' play it through the speakers and watch those kids WRITE!
Don't forget a keyword list!
Written by Julian S Wood -
www.ideasfactory.me/about/"rel="author"
As part of the governments drive to support Schools and teachers in the implementation of the new Computing Curriculum, Computing at School (CAS) have established 'Computer Master Teachers' (I hate the title too-a remaining Govian apparently). These are practising teachers who are funded to deliver training and advice to schools throughout the country on Computing. More info here.
I am a Master Teacher level 2 (I know!Sounds even worse…) and as part of my role I have to host 3 training events, at significantly reduced cost (compared to the majority of rip-off Computing conference fees) at my school, Wybourn Community Primary in Sheffield.
Participants in the courses will also get an opportunity to look around our 'Discovery Centre'  which was recently featured in The Guardian in a list of innovative school libraries from around the world. The training sessions will also take place in the Discovery Centre.
All the sessions are bookable through Eventbrite-links and more details here-
Please get in touch through Twitter @ideas_factory if you'd like to discuss anything further.
Hopefully see some of you there.
Written by Julian S Wood -
www.ideasfactory.me/about/"rel="author"
Just because I haven't written stuff up on my blog doesn't mean that I have stopped doing the creative original stuff! It just means I'm too busy to write it up! It also means that I have plenty of stuff to deliver on here when I have a spare 3 hours!
So I thought I'd share a persuasive writing project I did with my Y3 (aged 6-7 years) class. As my regular readers know I love using free stuff that I find on the web-especially generators (parts 1 and 2 ). They are online web tools that with a few taps of a keyboard can generate anything from a personalised newspaper front page to a Rubrics' cube with your face on it. Why I really like them is because they give students ownership of their own creation, can be used by all abilities and provide a brilliant stimulus for writing. Especially good for the reluctant writers (Boys!).
This was a half-term project of about 6 weeks, for each web tool the students used, I had a pattern of learning, to get the best end results. First they played with the generator for a lesson, then they were experts for the next lesson, when it came to creating the end result that I really wanted.
We have Cross-curricular projects at my school, the Literacy strand runs alongside the topic. We find that our students are much more motivated when the teacher says 'We will write about Robots today' than if they said 'We will write non-chronological reports today'… The students topic was Yorkshire and we had decided to look at famous Yorkshire foods (Yorkshire Tea, Rowntrees Fruit Pastels , Terry's Chocolate Orange etc). Watched some adverts and then set them a challenge- a made up letter from a Yorkshire Pudding manufacturer that was asking them to design a new brand of Yorkshire Pudding. The students had to create a brand name, logo, packaging, slogan and advert campaign.
This part is not very original, as I have seen loads of this type of project before, students creating their own product by drawing and writing but I wanted the students to create something that actually looked like a packaged product, looked like a professionally done logo and looked like an actual advert on a billboard. With generators the students could do this.
Firstly we talked about the importance of logos and how recognisable they are, we did a little logo quiz (Loads in this image search) and then the pupils created their own logo based on their name. There's a fabulous Logo website (Logonut) which generates 100's of logos just by typing. Allows you to include the product name and slogan, the only drawback being that to download the image you have to pay but we got around this by PRTSC (Print Screen) the image and editing in PowerPoint.
This led to discussions about how important their logo design was and how their design reflected their interests.  They then produced their own 'name' logo in PowerPoint. Changing font and importing clip art images from a tailored Google search.
Next we talked about product names and ones suitable for a Yorkshire Pudding maker. Students then used the same process as their own name to design a logo for their Yorkshires.
We then moved on to slogans, again we had a slogan quiz (and loads here) to see if the students could recognise products just from their slogans. We had discussions about how if a slogan is powerful enough you can recognise the product just be seeing the slogan. Pupils used The Advertising Slogan generator to come up with slogans for their Yorkshire Pudding brand. What's great about the generator is that not all the slogans fit the brand and students worked in teams to select the right one for them.
Students then put their Logo and slogan together using Logonut and made something like this-
They also used PowerPoint to refine their Product and personalise, using the same process as they had with their Logo. So in a few short weeks students had produced quite professional looking Yorkshire Pudding Brand Logo and Slogans. They had used generators as a stimulus to spark their own creations using PowerPoint. I definitely know that if only given a piece of paper and a pen, the students wouldn't have produced the same!
Now we went on to look at advertising and showed them some Billboard adverts of Yorkshire Products. We talked about how the Slogan and Product name were a very big part of the advertising campaign. Students started making connections and could see how important their choices of slogan and logo had been.
We talked about the places adverts were seen and gave pupils homework to write down all the place they saw an advert. Pupils then used different Advert Generators to produce their own Yorkshire Pudding Adverts. Bus advert generator-
This excellent Billboard advert Generator lets you upload your own image (students had saved their creations in PowerPoint as JPEG image files).
Big Huge Labs is a favourite of mine and they have a brilliant Billboard Advert Generator which again uses images but also lets you choose a number of different locations.
Students had a lesson to play with the generators and I gave them a wide variety to choose from http://www.signgenerator.org/ and http://www.customsigngenerator.com/ have loads!
The students had great fun and were able to see their product as a virtual advert and most importantly it was adding realism to the project. Students had created their product brand name, logo, slogan and now advert. All the way through this process much discussion took place about persuasive writing, although not much writing was done the students were already in a creative mindset, were having fun learning and using generators for the process gave them ownership of their brand.
Now students were asked to create the product packaging and they had great fun looking at some Yorkshire Product Packaging (Terry's Chocolate Orange and Rowntrees' Randoms ). We talked about what crucial information needed to be on packaging and had a very interesting discussion about what info brands had to have on their packages by law. We then looked at Yorkshire Pudding Packaging and challenged the pupils to create an innovative package design for one Yorkshire Pudding.
Students used the brilliant 3-D package design ( have also used in a to create CD's of their own made up bands )to use their Logos to make online 3-D box images.
Sometimes though you just can't generate products using the web (maybe when I get my 3-D printer in 5 years time..) and on this occasion the students made the packaging using 3D nets. We used the fabulous SENteacher 3D net generator to print out some different 3D shapes onto card. Students then used the old fashioned cut 'n' stick method to transfer their images on to their 3D shapes.
Students then watched TV adverts and wrote scripts for their own Brand's TV advert, concentrating on persuading the consumer to buy their Puddings. They then used iPads to video their adverts, editing them with iMovie to add music and graphics.
I hope this inspires others to try this project out, using web generators really does give students experiences they can't have with a piece of paper and a pen.
For those who have no idea what a Yorkshire Pudding is click here
Written by Julian S Wood -
www.ideasfactory.me/about/"rel="author"
I thought I'd share some of the online resources that I use in class  to teach the pupils about Bonfire Night (5th November). Some you may already use and hopefully quite a lot of them will be new to you.
Obviously if you haven't heard of the Gunpowder plot and Guy Fawkes or the whole reason us English folk have bonfires-then you need a starting point. Look no further than the ever brilliant Simon Haughton (@simonhaughton) and his Infant encyclopaedia.
Not only does it have text to speech but games and lots of activities to stimulate learners. http://www.parkfieldict.co.uk/infant/bonfire/contents.html
For older students look no further than a great BBC game about the Gunpowder Plot which combines elements of learning through games, searching for clues and using historical evidence. http://www.bbc.co.uk/history/interactive/games/gunpowder/index_embed.shtml
Obviously Firework safety is a must and in particular the Children's Burns Trust have some must use resources. They have a number of short animated stories that highlight the dangers of fireworks http://www.welephant.co.uk/bonfirestory000.htm they also have a few games, a matching game for infants is particular good at pointing out the dangers http://www.cbtrust.org.uk/prevention/learningzone/infants/cardgame.html . Prevention really is the best way and the CBT website has an excellent firefighting school that pitches the message just at the right level http://www.cbtrust.org.uk/prevention/learningzone/juniors/firefighter.html .
TES iBoard has a very good Firework shape poem activity http://www.iboard.co.uk/activity/Shape-Poem-Maker-Fireworks-1539 and lesson plans but unfortunately it's a paid service but you can get a free trial.
I'm saving my favourites till last, these are the resources that the children use at home and request the most every year. Online virtual firework displays! First up is the Virtual Sparkler and it does what it says on the tin, it's a lovely idea and very creative especially if you get kids to draw letter shapes- http://www.bleepbloop.net/swf/sparkler.swf
Next up is Art website Highlights with Make your own Fireworks show  http://www.highlightskids.com/flash/make-your-own-fireworks-show Here you simply press five coloured buttons to fire off fireworks to a soundtrack choice of 3 songs.
Disney Create have a rather nifty fireworks show creator-you add the fireworks and it provides the music for you to copy the famous Disney fireworks display behind their Princess castle http://www.disney.co.uk/disney-create/fireworks/
Crayola have a similar themed Fireworks spectacular, no music this time but the fireworks explode into interesting shapes like hearts or smiley faces  http://www.crayola.co.uk/kids-playzone/fireworks-spectacular.aspx .
Then there's American Firework maker Phantom website,Just a brilliant fireworks show builder where you can actually choose from Phantoms whole range of fireworks, arrange them in a fireworks display yourself and watch as these really expensive fireworks blast off in glorious colour over your screen! http://www.fireworks.com/showbuilder/#
Lastly there's a rather good History of Fire animation that documents our obsession with fire and why it has been so important in the development of the human race, since the dawn of time.  http://www.welephant.co.uk/HOFPart1.htm
I use all the resources I have shared with you to stimulate student writing-descriptions, adjectives, historical recounts, safety posters, etc. By using virtual Fireworks children create something they can't possible do with real fireworks, it gives them ownership and they produce much better writing outcomes. That's the beauty of the web!
For those children who find writing difficult-I've included the Makaton PDF of Firework icons that is free on their website.
Remember please stay safe and follow the firework code. .
If you know of any more links to resources please add them on the comments section below.
Written by Julian S Wood -
www.ideasfactory.me/about/"rel="author"
This a post I wrote for June's #UKEdchat magazine-I've since added a few more resources.
This Meme was posted on Twitter a while ago-
I kind of agreed with it but knew of loads of great ways that I have used Google Earth, Maps and StreetView in my classroom. Maybe people only used it to look at their houses because they weren't aware of all the great resources out there. In this article I'll showcase some brilliant resources that will definitely stimulate learning and especially writing in your class.
I teach in the top 2% most deprived areas in Europe, the students have a paucity of imagination because of their lack of experience, missed opportunities to visit places and having very little background of wider reading. They don't tend to watch the Discovery Channel either!
So it's with little surprise that they fail to be ignited when the teacher stands in front of them and tells them that they have just climbed the largest mountain in the world (Did we drive up?) and  are now standing at the tallest point on earth (I've been to the top of Blackpool tower). Could they now describe what they are looking at? (No) Could they write about they're amazing journey? (Not really) and could they write a detailed description of the top? (No chance).
Why do we as educators make the same mistakes, are we trying to test how badly they could write about something? It's not the students fault, when the nearest they've ever travelled is to the City Centre, they just haven't the experience or the knowledge, to formulate an accurate picture for their imagination to work. It's not just those poorer students who suffer from this, for most pupils the top of Mount Everest might as well be an alien planet hundreds of light years away.
That's the beauty of today's internet, the World Wide Web should be renamed Wherever, Whatever, Whoever because with the web you can visit places on this earth (and beyond) that most of us will never have a chance to visit in the flesh in our lifetimes.
Who needs imagination when you can actually go there!
After mapping the world (well the places that will let them!) with their StreetView car, Google have now turned their attention to places that their car can't get to. They called this Google Treks and use a backpack 360 camera to capture these places.
They've included some fascinating places-The Great Barrier Reef and the Galapagos Islands Trek gives the viewer the opportunity to venture underwater and really explore aquatic life.
For the Great Barrier Reef, you actually enter the sea from a beach in Google StreetView!
Imagine using this a stimulus for writing about an underwater kingdom or using Finding Nemo as a complimentary learning topic-complete engagement of pupils.
Wanting your students to write factfiles of some of the worlds great wonders-Google has that covered too! Explore The Eifel Tower, The Taj Mahal, the canals of Venice and even the tallest Building on the planet, the Burj Kalifa
Google also have a wonderful 'World Wonders' website where you can explore Stonehenge and the banks of the river Seine in Paris, amongst many others.
Google have used Treks to map some of natures great places.
Want to travel up Japan's Mount Fuji, explore the Grand Canyon in America, walk along the Colorado River or the Amazon Basin-You can!
Want to see the nature in Churchill (Canada's capital of Polar Bears) or see the Arctic at Iqalut-you can!
Talking of nature and especially animals, there are a number of animal tracking websites that will allow students to look at the movement of animals in real time. Fascinating when teaching about migration or nocturnal animals. You can imagine the students faces when they see just how far an animal travels around when seeing it on a map.
You can see Polar Bears with BearTracker-
You can view the movement of Jaguars and many other species with the WWF wildlife tracker. These animals even have names and I have used this resource to ask the students to write about the day in the life of Naipi the Jaguar.
There are also quite a few Shark trackers and one of the best is Ocearch, where you can see the migration of sharks and it gives plenty of details of each tagged animal.
Google Maps views is a place where people upload their 360 photographs (photos that are scrollable through 360 degrees, giving the viewer a more in depth feel to the place photographed)
You can click on any place pin to access these and there are even a view surprises.
Click on the pin in the middle of the Atlantic Ocean and you get a panoramic view of the International Space Station-complete with photo of that astronaut with a moustache!
Panorama photos are great for taking pupils to places that they would never be able to visit. Using the Screencast-O-matic screen recorder website you can create a pretty realistic walk on the moon. Especially when on Panorama.dk they have loads of photos (together with actual sounds from the landings) of every Apollo flight to the moon.
Actually there is a little known trick in Google Earth-by selecting the right hand menu you can change Earth to Moon
or Mars.
You can explore them just like Earth and Google Mars even has real time updates of the Rovers mapping the planet out.
It also has lots of handy information and even a virtual robot assistant!
Any guesses where this photo is from?
Yes-it's from the highest point above sea level on earth, the top of Mount Everest!
You can have a brilliant explore around using the panorama website and when you link it with Google Treks streetview of Everest base camp it makes writing about the Epic journey of Edmund Hilary all the more realistic!
I going to end this article with a few gems. These websites I have used to fill a little time and to stimulate art in class.
Firstly there's Geogessr, a genius site where it randomly shows you a Google Streetview image and you have to pinpoint where it is in the world. You get points for getting close to real location and is great fun!
Next is Red Bull Google Street Art view. Red Bull had the genius idea of tagging all the places in the world that you can see Street Art on Google Street View.
Get glimpses of Banksy classics in the proper environments!
Google now have their own Street Art section on their Cultural site.
Then there's Tate Britain's Google Maps Mash-up ArtMaps, on these maps you select a location it shows you any artwork that the Tate has in it's posession that's linked to that location. Brilliant when researching local history.
Let's go back to the beginning, sometimes it's really useful to use Google StreetView to explore where your house is. Especially when there's two fabulous StreetView image manipulating websites that allows the user to create amazing images.
Streetview StereoScopic turns your house (or Eifel Tower or Stonehenge) into a mini-planet.
Especially useful when asking children to make up alien planets and to describe them.
Or using the Top Trumps Generator at the BigHugeLabs website to write planet factfiles.
There's Roschmap that mirrors the Streetview image to produce stunning art works.
Finally I'll share a fabulous resource from Google (only downside being you need to sign in with a Google/Gmail account) called Tour Builder.
Using Google Earth you can add points of interest around the globe, add written descriptions, videos and photographs.The children in my class used it to write written descriptions of their journeys from Home to School, with screenshots from StreetView of interesting landmarks or location stories.
After you have finished it produces a brilliant video stitching all these aspects together-here's the video I made to support Nelson School in New Zealand and support their effort to connect globally. (#gigatownnsn)
I hope I've shared enough for you to see that Google Maps are more than just looking at your own house and that you can see how much potential they have to stimulate and engage writers in the classroom.
All the resources (and more!) are available by typing this into the web address bar idsfac.me/urthere and I have loads of stimulating resources on my website ideasfactory.me .
Please tweet me at @ideas_factory if you want to ask me anything.
Written by Julian S Wood -
www.ideasfactory.me/about/"rel="author"